What are brokers recommending for 2022?; and why such a low US jobless claims number should command our attention.
7 December 2021

What do brokers' predictions for 2021 tell us?; why the Fed put is here to stay; and the asymmetric equity risks of a no-deal Brexit.
Read Article

Does tapering actually matter?; and is there any slack left in the US labour market?
Read Article
What Are Brokers Recommending for 2022?
Last year, broker forecasts for 2021 were almost unanimous: bullish on the reflation trade, positive on emerging markets, and expecting high yield to outperform investment grade credit. In short, brokers thought that everything would be alright, and were all in on the re-opening of the global economy.
Next year, however, there is no such consensus. A look at four broker's predictions illustrates that the major theme is inflation versus disinflation (Figure 1). Sixty-four percent of all top recommended trades are tied to either one of these paths, with explicit trades breaking 3:1 in favour of inflation. Nine of the 44 top trades are bullish on oil, with only Broker 4 avoiding the commodity. While this is admittedly a small sample size, and inflation judgements are necessarily qualitative rather than quantitative, the theme is probably the most dominant for 2022 recommendations.
In contrast to last year, there are zero trades which expect outright emerging market performance versus developed markets. This isn't exactly surprising, given the 21% underperformance in 2021. Indeed, a lack of continuity is another major theme. Only 50% of next year's top recommended trades are prior winners, compared with 70% from 2021.
Figure 1. Broker 2022 Top Recommended Trades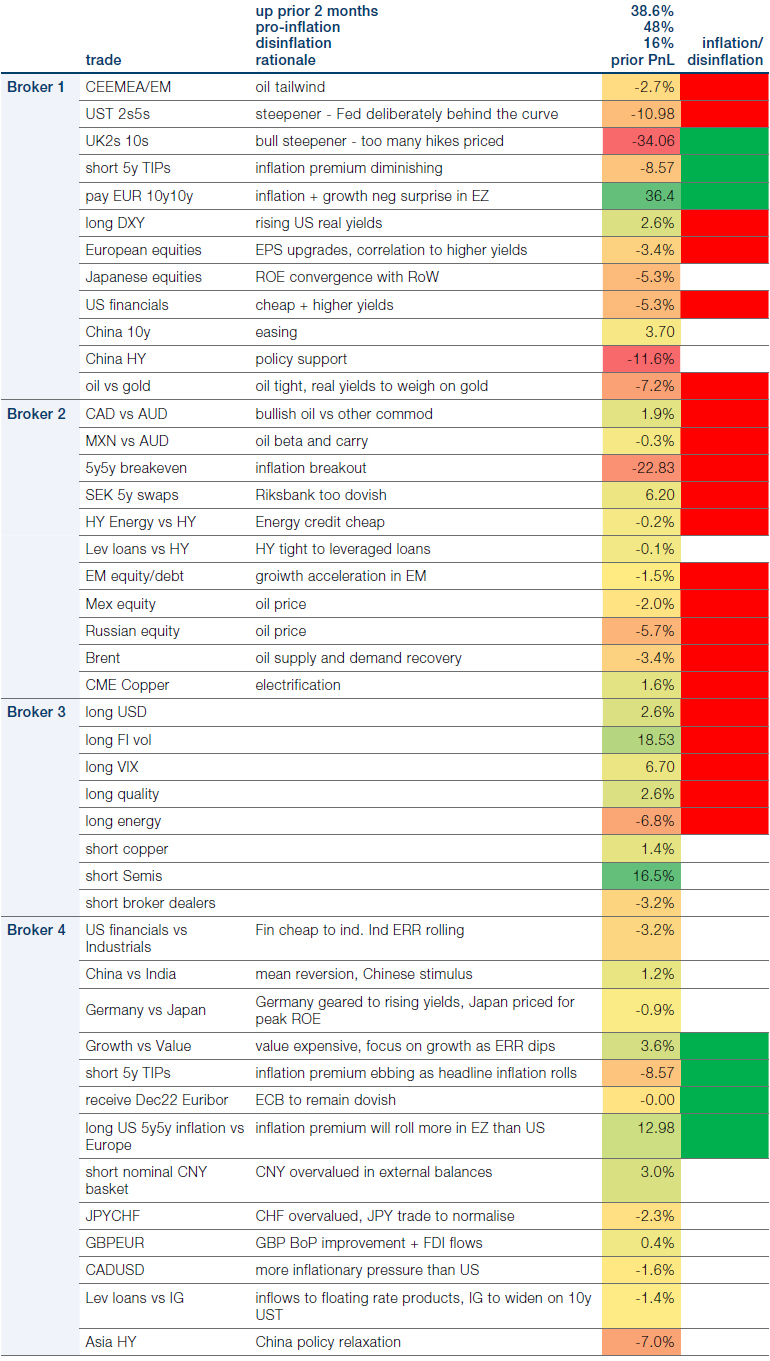 Source: Man GLG; as of 30 November 2021.
The organisations and/or financial instruments mentioned are for reference purposes only. The content of this material should not be construed as a recommendation for their purchase or sale.
The Jobs Squeeze Continues
The labour market squeeze continues: US initial jobless claims have dropped to their lowest level since 1969 (Figure 2).
However, we should raise some caveats before we cry havoc and let slip the dogs of wage-driven inflation. First, claims are being somewhat influenced by the technical factor of Thanksgiving, which usually reduces the number of new claims. We therefore expect a rise over the coming weeks.
Second, we have to acknowledge the disappointing new jobs number, with the US creating only 210,000 new positions in November. However, U3 unemployment (or the number of unemployed people who are actively seeking a job) fell from 4.6% to 4.2% (Figure 3), which means that the phenomenon of an incredibly tight labour market with reasonably high levels of unemployment continues. In our view, these numbers are a continuation of our previous conclusion – there is a missing cohort who have failed to return to work after the pandemic, and the unemployment statistics include a large proportion of these workers.
Despite these caveats, such a historically low jobless claims number should still command our attention. Previous peaks of economic cycles have rarely approached such low initial claims, with the closest comparison being in 2018-19. With seemingly persistent inflation, it makes more sense to see new claims as further fuel for the narrative that the Fed will taper in December, and raise rates much earlier than previously expected. Likewise, it also should influence which unemployment data we place more emphasis on. If unemployment remains high, but non-active workers are not claiming benefits, it implies that they simply aren't interested in returning to work. The data that matters, then, would be those that focus on vacancies, payrolls and new claims – i.e., the active rather than the inactive end of the labour market.
Problems loading this infographic? - Please click here
Source: Bloomberg; as of 3 December 2021.
Problems loading this infographic? - Please click here
Source: Bloomberg; as of 3 December 2021.
With contribution from: Ed Cole (Man GLG, Managing Director – Discretionary Investments)