The UKMT and Man Group congratulate UK team at the European Girls' Mathematical Olympiad
UK team places 3rd at prestigious mathematics competition, sponsored by Man AHL
London, 18 April 2018
The UK Mathematics Trust (UKMT) and Man Group congratulate the UK team on outstanding performance at the 2018 European Girls' Mathematical Olympiad (EGMO), an annual international mathematics competition. The UK team, which is selected by UKMT and sponsored by Man Group's diversified quantitative investment manager Man AHL, achieved its highest ever score in an EGMO competition, placing 3rd out of 52 participating teams.
The team's best performer, 17 year-old Emily Beatty, also became the first ever UK candidate to achieve a perfect score of 42 out of 42 in the competition, ranking joint 1st among the 192 competitors and winning a Gold Medal. Joining Emily in the UK team were Alevtina Studenikina and Naomi Wei, who each achieved a Silver Medal for their scores, as well as Melissa Quail, who took home a Bronze Medal.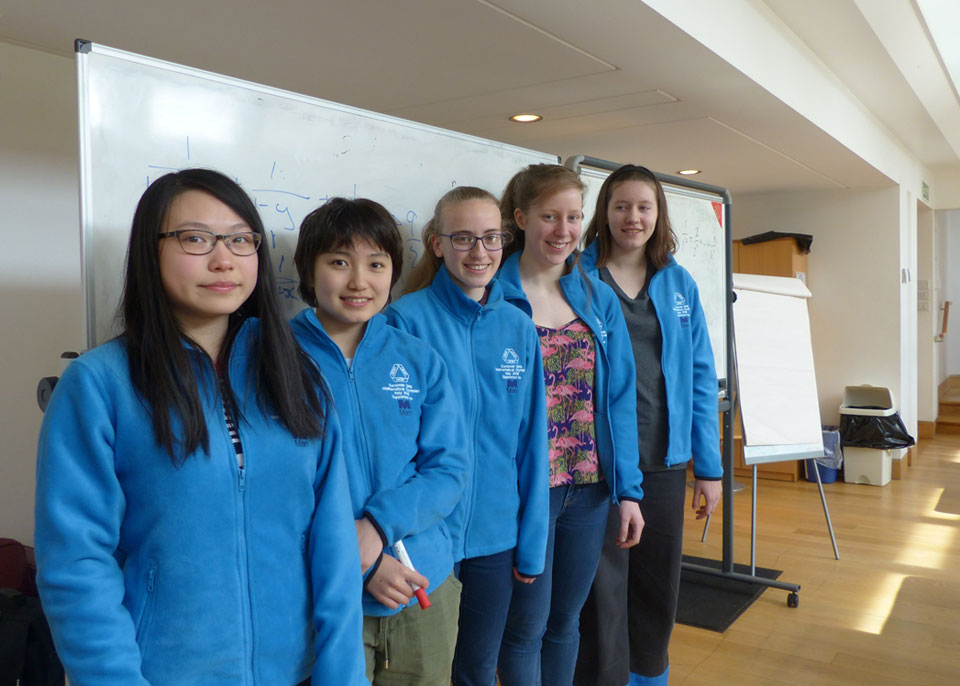 Held this year in Florence, Italy, EGMO is the most prestigious maths competition of its kind in the world. EGMO 2018 was the seventh annual event, and saw 52 teams competing, each made up of four female mathematicians of school age. The UK team was identified through a rigorous selection process, which included the Mathematical Olympiad for Girls and the British Mathematical Olympiad Round 1, competitions that are held in UK schools, and organised by the UKMT.
Rachel Greenhalgh, Director of the UKMT, said:
"On behalf of the UKMT, I would like to congratulate Alevtina, Emily, Melissa and Naomi for their success in the European Girls' Mathematical Olympiad! We are proud of the students for their hard work in preparation and their fantastic achievement in the competition. The team demonstrated their outstanding problem solving skills and it is great to see their mathematical potential recognised. I thank all those involved, from the maths teachers who support our activities and the UKMT volunteers who run them on our behalf, to our sponsors and supporters, in helping make this possible."
Sandy Rattray, Chief Investment Officer of Man Group, said:
"I am delighted to congratulate Alevtina, Emily, Melissa and Naomi on their fantastic success at this year's European Girls' Mathematical Olympiad! As a firm, we are very proud to sponsor the UK team's participation in the Olympiad, which plays an important role in showcasing the potential of talented young female mathematicians. Mathematics forms the basis of much of what we do at Man Group, particularly within our quantitative investment engines such as Man AHL, and encouraging the pipeline of female talent in this area is a key priority for us."
Man AHL has worked with the UKMT since 2006 and sponsored the UK team at EGMO since the 2015 competition, as part of Man Group's aim to support and encourage female talent and the firm's charitable commitment to numeracy and literacy. Man Group's Paving the Way campaign seeks to enhance diversity across the firm and within the financial services and technology industries more broadly.
The UKMT is a registered charity whose aim is to advance the education of children and young people in mathematics, organising national mathematics competitions and other mathematical enrichment activities for 11-18 year old UK school pupils.
Download
Contact
Global Communications
Man Group, Head of Communications
Tel: +44 (0) 20 7144 1000
Man Group, Senior Communications Manager
Tel: +44 20 7144 1103
Mobile: +44 7513 712636
FTI Consulting
Tel: +44 (0) 7771 978 220
United States
Man Group, Senior Communications Manager, Americas
Tel: +1 212 649 6859
Tel: +1 212 279 3115