Meet our people - Hersh Gandhi
Head of Sales, (ex-Japan) Asia Pacific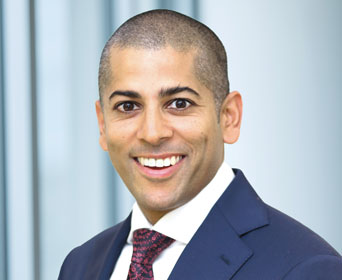 | | | |
| --- | --- | --- |
| Business Unit: Sales | Country: Australia | Tenure:  Since 2004 |
Q: Please provide a brief description of parenting responsibilities/home situation
A: I have three young, active children and a wife who works in financial services 2 days per week. Neither of our extended families live in Sydney, and I travel quite a bit, so it does get quite chaotic at times.
Q: Please detail any family friendly initiatives that have been used and how these have helped to achieve a balance between work and home
A: In my case, it has been mainly a case of using flexible working arrangements when practical to do things with my children that I know they (and I) value, like reading to them or having a kick of the footy.
Q: What advice would you give for anyone who is considering making use of family friendly offerings?
A: I seem to have become one of those parents who says ''it all goes by so quickly'' ... so in my view, these family friendly offerings are invaluable. My advice would be that these are absolutely being offered in good faith, so don't hesitate to take advantage of the ones that work for you.
Q: Any other comments e.g. reassurance regarding career prospects?
A: The firm definitely recognises that work-life balance is important for working parents to realise their potential as an employee. Over the long term, I think these initiatives can therefore enhance the career prospects of parents rather than the opposite.
Q: Why do you feel that Man Group is a supportive environment for working parents?
A: One can tell when something is truly in a company's culture. It is more about the people than the policies, and at all levels of Man, I have seen (and been a part of) management supporting working parents. The "little" touches - having a day when parents can bring children into work, recognising that someone might want to leave early on their kid's birthday etc. - matter just as much as the more formal policies we have in place.