A look at providing spaces at the office for electronics, music and other creative hobbies.
October 2022
Here at Alpha Tech, we unashamedly strive to provide a working environment that makes our technologists, geeks and nerdy types feel comfortable and enthusiastic about coming into the office to do good work.
To this end, for some years now we've aimed to provide some spaces in the office that encourage staff to pursue creative interests and hobbies that lie outside of the day job, like electronics, music, crafting and any similar pursuit.
Makespace
Born of some team-building activities on one of our off-site days, the Makespace is a workshop right in the middle of the Alpha Tech office. It aims to provide a space in which for people to work on hobby projects and put their creative minds to work. We have a full set of standard hand tools, racks of electronic components and oscilloscopes which have been used commonly for robotics projects and building custom guitar pedals.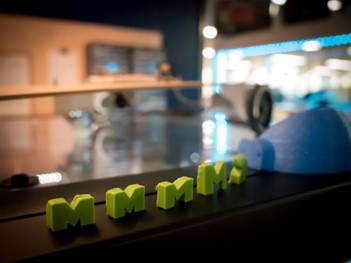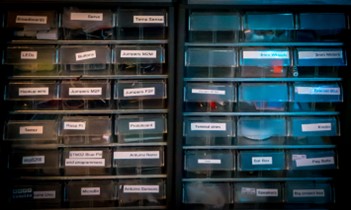 Larger tools in the workspace include a drill press and a large 3-D printer which has proved very useful for printing robotics part, cases for PCBs and adapters for fitting things like camera mounts together. Although that said, we haven't yet been able to convince our building managers to allow us the use of welders, laser cutters and lathes in the office...
Whilst they have been the main focus, we're not limited to electronic pursuits: there are also sewing machines and paints for working on textile and art projects - and we regularly update our selection of tools and materials available as staff come up with new things to work on.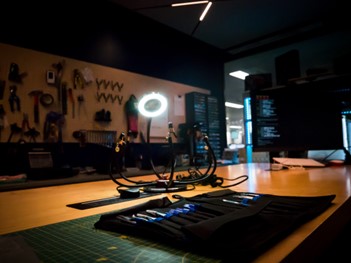 Music Room

It's probably no surprise that if you put enough highly skilled technologists in one room, you'll be able to form a decent sized orchestra or band given the number of musicians there are amongst them. Our dedicated music room holds a number of electric guitars and basses, as well as a full-sized upright piano capable of silent practice. Additionally, there is a selection of mics and a mixer sufficient to put together performances for our socials and gatherings.
As well as being able to come and practice instruments employees already know how to play, we have engaged music teachers for tuition on piano and guitar which have been very popular since their inception a number of years ago. There is quite the tradition now for yearly piano recitals, and it is always great to see how people are coming along with their musical development.
Gadget Lending Library

There's always that shiny new gadget on the shelf, or a bit of kit we would only use sporadically, that we can't quite justify buying. Knowing this feeling well, a great idea came up amongst the team: a lending library for technical gadgets.
Our selection incudes drones, telescopes, microscopes and VR goggles, as well as fully kitted DSLR cameras. Our recently added Lego Technic sets in particular have proved extremely popular with parents, whilst winter sports enthusiasts love the drones and GoPro's. Being able to borrow one of these gadgets for a long weekend or a ski trip and bring them back (after washing off the jam) is great way to enriching our own and our family's lives without the added cost, and the gadgets themselves get more use being lent around rather than gathering dust on a shelf.
As with the Makespace, we're regularly adding to the library as new ideas come up and new tech becomes available.
There are clear benefits from encouraging overall creativity from our staff as well as providing spaces for them to decompress after (and during) a long day. Practicing music and tinkering on hobby projects are a great way to unwind from the stresses of the day job, and we look to continue expanding our libraries to help our people keep this up in the future.